About Us
Tri omega inzenjering is privately held civil engineering company, founded in 1995 in Belgrade.
Activity of company includes:
construction works
providing consulting and technical services and project management
import-export
representation of FPC Italia products, which manufactures various types of bearings and expansion joints for bridges and other construction projects.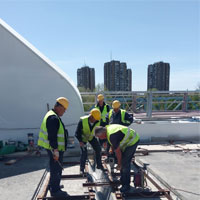 Tri omega inzenjering as general distributor of FPC Italia products has specialized experts which have installed more than 2.500 m¹ various types of expansion joints and lot of bearings.
Beside standard works on concrete constructions, company has DESOI equipment for injection cement and epoxy emulsion and well-trained workers which already have a lot experience on this type of projects.
Tri omega inzenjering has engineering-technical personnel who gained extensive experience working for many years on construction of capital projects across former Yugoslavia, Russia, Middle East and Africa. Tri omega engineering has been engaged in projects of the World Bank, "Rehabilitation of Irrigation and Drainage".
Company has license for execution of works on road structures (bridges) I132G1 issued by the Ministry of Environment and Planning, and operates in accordance with international standards ISO 9001: 2008, ISO 14001: 2004 and OHSAS 18001: 2007.